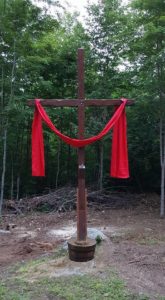 This yearly event has been a hallmark of our fellowship as it allows anyone to experience God through worshipping on a large tract of land right down the road from our church building.
Our main goal is to 'see what God will do', as we bring forth the talents God has graced us with in order to use them so that anyone may come for rest and spiritual renewal.
Some of the things that have taken place here are Bible Teachings, Camp Outs, Camp Fires, Crafts, Singing, Preaching, Story-Telling, plenty of food and plenty of fellowship.
Now as I prepared to write this, I was going to describe our fellowship as a "small" church; and while we are small in numbers, this description would not reflect who God is calling us to be.
Our church is indescribably mighty because God is working deeply upon individual's hearts and through our lives to many others.
Our identity might best be described as Worshippers in Spirit and Truth. (John 4:23-24).
Now, this yearly event did not just start up as a idea that we conjured up as a marketing effort to share the Gospel, but it originated many years ago in the heart of one of our members who was moved by God to purchase the land because God had a purpose for this place.
And, we do our best to not take that charge lightly as we have already started to consider next year's worship.  While we all have our talents to readily share, each one of us are reminded of the necessity to pray about what God would have us do.
While each of God's churches has a mission to fulfill to their communities, we are finding that Worship in the Woods is part of our mission and are thanking God for each and every person who comes.
Our next event is already set up in our books as we are planning for August 10-12, 2018.  If you want more information, just contact us.
Hope to see you there!
-Michael