You can listen to the audio by clicking here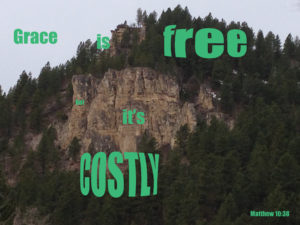 Good morning, this is Michael De Rosa, and today I want to talk with you about the cost of discipleship.   My text will be  Matthew 10:38
And he who does not take his cross and follow after Me is not worthy of Me.
In our Westernized culture of Christianity, Jesus' words can be too easily glossed over because while the political climate is becoming heated against Christians, we still have the mindset that persecution via martyrdom is not going to affect us.
Maybe it won't.
BUT….to not live as though we may be called upon to give up our lives for the sake of Christ leaves us vulnerable to living in a cheap type of grace.
This grace that gives us the freedom to live within rules and regulations of the Christian faith with which we are comfortable.  This type of so-called grace which is fed by the fires of hell.
The only way for us to live a vibrant Christian life is to consider the horrors of the cross of Christ and to realize that we are obliged as Christians to willingly embrace such trials ourselves.
So, how well are you handling your cross today?